J&M Drive Caps for Impact Hammers
For driving sheet piles, pipe piles, concrete piles, wood piles, etc.
Not all drive caps and inserts are the same. J&M drive caps and inserts preform better on the job and cause less harm to the pile hammers lower cylinder and anvil.
The secret is in the alignment. J&M takes the extra time and money to machine all the surfaces to make sure that everything is perfectly straight and true. We warranty better performance and your next PDA test or your money back.
Three machined surfaces for better performance.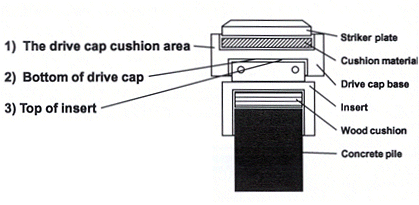 No other manufacture does all three.
WARNING: Driving piles with drive caps or inserts that are not fully machined will result in lower cylinder failure. At J&M, we do not have lower cylinder problems. Why? Because we machine these parts.
DCB 26
26"x8"
D8-22 thru D30-32
1,076
DCB 32
32"x8"
D36-32 Thru D62-22
2,436
DCB 37
37"x8"
D80-23 thru D100-13
2,976
Box Insert 10 inch
11.5"x11.5"x16" deep
981
Box Insert 12 Inch
13.5"x13.5"x16" deep
1,124
Box Insert 14 Inch
15.5"x15.5"x16" deep
1,521
Box Insert 16 Inch
17.5"x17.5"x16" deep
1,664
Box Insert 18 Inch
19.5"x19.5"x16" deep
2,255
Box Insert 20 Inch
21.5"x21.5"x16" deep
2,542
Box Insert 24 Inch
25.5"x25.5"x20" deep
4,837
Sheet Insert DCS-1
(view picture)
1,801
Sheet Insert DCS-5
(view picture)
2,639
H-Beam Insert, Round type, 14 Inch
21" round 7" deep
1,036
H-Beam Insert
Waffle Style
948
Small Pipe Insert, 8/10/12/14
8" pipe up to 14" pipe
595
Large Pipe Insert, 16/18/20/24
16" pipe up to 24" pipe
1,830
Small Wood Insert
13.5" round by 10" deep
893
Large Wood Insert, 15 1/2 diameter (DISCONTINUED)
15.5" round by 8.5" deep
1,014
Square Box Drive Base, 24 Inch
25.5"x25.5"x19" deep
5,818
Square Box Drive Base, 30 Inch
31.5"x31.5"x24" deep
6,195
Step Taper Follower DCB 32/37
16"pipe up to 30" pipe
2,824
Step Taper Follower DCB 37/42
20"pipi up to 36" pipe
7,055
Phenolic Pad
22.5" x 1.0"
22
Phenolic Pad
25" x 1.0"
26
Aluminum
22.5" x 0.5"
22
Aliminum
25" x 0.5"
36
8" x 25"
1,036
6" x 22.5"
628
---